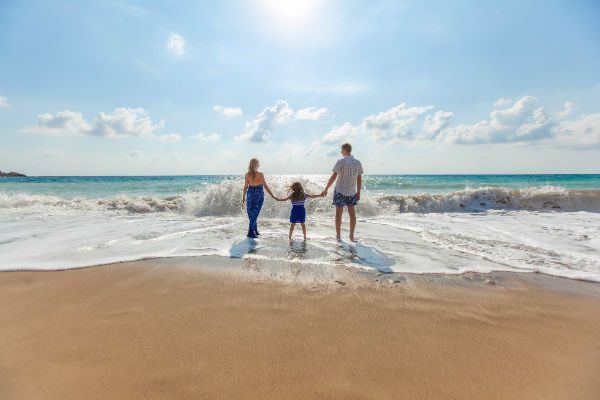 So you've done a little reading about Strengths Based Parenting, but how do you know if it is right for you?  In my opinion, it is right for everyone!
It doesn't mean that every conversation you have with your children is strengths focused, after all, kids are still kids and will still need to be disciplined.
But even if you change one conversation a day to focus on a strength, it's a win-win for both of you and could make the world of difference for their future.
Start with your own self-awareness
It helps to have a good understanding of your own self and to be able to bring your strengths into Strengths-Based Parenting.  Think back to your own childhood:
What is it that you remember most about your parents?
What do you remember about the conversations at dinner?
Who was your favorite teacher?
What was it about them that made them your favorite?
Where you are aware of your strengths going up?
Imagine what your life would have been like if you were aware of your strengths in primary school, middle school or even high school?  How would your life be different today?  Would you have ended up in the same career or would you have harnessed the knowledge of your top strengths to choose a different college major and career path?
As the saying goes, hindsight is 20-20.  In reflecting on my own life – my childhood, my education, my career to date, I've realized just how much my strengths have influenced my decisions.
Despite not knowing my strengths at an earlier age, I ended up on a career path that suited by strengths of Ideation and Analytical.  I cannot say that if I understood my strengths as a teenager that I would have chosen a different college major, but I probably wouldn't have spent so much time trying to fix the things that I wasn't good at.
I would have instead focused my energy on using my strengths to overcome these so-called weaknesses and negative feedback I received from managers.
I've never been good at public speaking, but what I have come to realize after attending many training courses and getting thrown in the deep end and forced to give presentations, is that I can leverage my natural talents and strengths to be a great public speaker.
With a top strength of Relator, I know that there will be people in the audience with whom I have built relationships and if I direct my speaking to them that I will present myself much more confidently.
With a top strength of Analytical, I know that I have fully researched the topic and will be able to confidently present the topic or that my strength of Learner will mean that I have read as much as I could about the topic beforehand.
If I had only known my strengths at an earlier age, I wouldn't have spent so much time trying to improve certain "weaknesses" but instead learned how to use my strengths in different style allowing me to thrive in a whole new way.
Is there a downside to Strengths-Based Parenting?
Of course there is! Doing too much of anything can have a negative impact.  While Strengths-Based Parenting can give children more confidence and allows them to become more focused on the things they love, it is important to not forget about the things that every child still needs to do.
Every child needs to learn certain things at school, such as learning to read, write and do basic math, even if these aren't considered a strength.
So if there are subjects that aren't necessarily a strength of your child's, it helps to find ways to use their strengths to keep them motivated to learn.
Use your child's competing nature to see who can get read the most books in a month.
Every child also needs to be disciplined, so it is important to remember that while encouraging their strengths, there still needs to be boundaries and they still need to learn to listen and respect others.
They need to learn that too much of anything is a bad thing.  So make sure to keep a balance with your Strengths Based Parenting.
Where do I start with my kids?
Start by simply observing your children.  Take note of the activities that they do on their own, the ones where they get so engrossed in what they are doing that they skip snacks or don't seem to be listening to you.  Then start to notice the connections between these activities.
Think about the words that you use to describe your child.  Write these down without hesitation.  The first words that come to mind are usually the most accurate description.  What is the connection and theme among these words that you wrote down?
Think about the toys they ask for? Is there a similar theme with the toys?
Ask your children's teachers what strengths have they observed in your children and what activities do they seem to lose track of time while at school.  Do they get super excited when it is time to do art?
Once you have identified your children's strengths, find ways to encourage them to use them.
I've created a resource to help you identify your children's Strengths in Action.
Learn more about strengths based parenting
I have identified my child's strengths, should I tell his teachers?
Absolutely! Teachers have an amazing opportunity to further develop and encourage your child's strengths while at school.
Teachers also have a very different insight and perspective on your children. So I encourage you to work with your children's teachers to get their view on what strengths they see in your children and then mention to them what you believe their strengths are.
If they are not in sync, it doesn't mean that either of you are wrong, it might just be different ways of viewing the same strengths.
Keep the dialogue open with your children's teacher and you may learn something new about your child that they haven't shown you or you hadn't thought about.
Strengths-Based Parenting can and should be used by all parents.  Start by observing your children to identify their strengths, then help them to learn how to harness those strengths.  By helping your child to know their strengths, you are setting them up for a life of possibilities for them to shine and thrive and be their most successful.
So, let's start focusing on what is strong, rather than what is wrong and allow your children's strengths to shine and them to thrive.
My goal is to help you and your children recognize, utilize and Be Your Strengths because as Frederick Douglass once said:
It is easier to build strong children than to repair broken men.
To learn more about Strengths Based Parenting and to schedule your free Get Acquainted Call, contact me today!